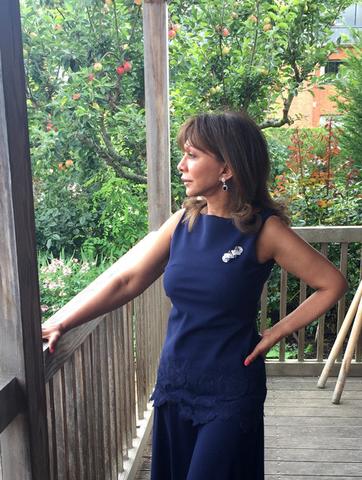 Designed by Lalita
Designed by Lalita and made in the UK, Me and Maya offers a range of beautifully made clothes for cocktails and events. With attention to detail, soft tailoring and the use of sarees, Lalita creates modern classic pieces for the woman of today. Me and Maya takes women from day to evening with effortless style and elegance.
Born in Indonesia Lalita has had a life-long passion for beautiful fabrics and fashion. Her late father was in the textile trade and her mother excelled in making clothes… designed by Lalita of course! All this inspired Lalita to pursue a career in fashion.
In 2004 Me and Maya opened their flagship boutique in the historic town of Midhurst in West Sussex.
Lalita's collections are non seasonal as the ideas are created on the fabrics Lalita is able to source at the time and which ones inspire her.
Our Favourites
All designs bring something new with their colour and style, enough to transform your wardrobe into a vibrant and colourful one with these authentic designs. Walk with confidence with our incredible clothing range.
Shop Favourites
Unsure about a purchase?
Try Before You Buy
01730 814476 info@meandmaya.co.uk
Here at Me & Maya, we understand how important it is to get the perfect fit. That is why we have now introduced the possibility of trying our clothes on before having to purchase them. Therefore, you can rely on a seamless fitting and not have to worry about whether it fits or not when it arrives.
© 2021 Me & Maya, All Rights Reserved