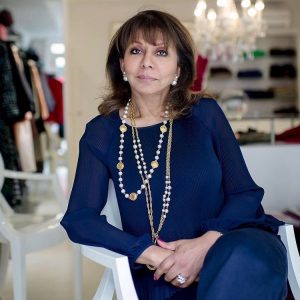 What inspired you to start up Me & Maya?
"It was originally started as a mother and daughter line, so I used it to make children's versions of mothers' clothes – hence the name 'Me and Maya' [Maya is the name of Lalita's daughter]. But when I moved to West Sussex, the children's line was not selling as well as the grown-up line, so I switched to only clothes for mothers or women in general. I decided I wanted to do clothes for occasions that didn't cost a tremendous amount. That's how it all started."
 What do your clothes incorporate or represent?
"The most obvious thing my clothes incorporate is that it is not mass produced and also, it's made in England, made in London. So not only am I creating something; a special piece for your wardrobe, and something that you will wear for a long time, but I am also supporting the Country by having things made here which I would really like to see expand. England was once a leading world manufacturer, exporting lots of items – so why can't we do it again?"
You mentioned that Indian fabrics and culture were hugely influential on your company?
 "Yes, so when I started my label for adults, I wanted to do something that also reflected my heritage. I was very much inspired by an Italian company called 'Etro' who used paisley, and as we all know paisley comes from the middle east and India, it's used in their culture an awful lot so I decided to try to work on something with this in mind. I bought a whole lot of sarees and I thought I'm just going to do one design which was a shirt, 70's inspired – and by that, I mean, quite a big collar with a pussy cat bow and fitted. I produced that in all the different sizes and colours of the sarees I had bought. It was an instant sell out; customers just loved it. So I took it from there: it has evolved from just blouses, I've made skirts, palazzo pants and I now sell these under the Limited Edition because from one saree you can't get all the sizes – so its limited edition and a lot of people buy it as resort wear. That's what it's become, resort wear."
Could you tell us more about your recycling of the old sarees? 
"Well with the wastage of the manufacturing, I decided to make little tops and use fabric placement, so I wasn't wasting so much fabric – and that also became quite a popular thing. I have now more recently started to do cushions and hopefully the range will expand to more things."
Do you have a favourite look?
"Well I'm quite a classic dresser, so for me simplicity in outfits is the key thing. I would probably wear either a top with matching trousers or a modern take on your jacket. Or I would wear a nice simple dress, probably fitted as I'm quite short. But I will always accessorize things differently so that every time I wear the same outfit, it can look different with the accessorising. The shoes, the bag, maybe scarves, jewellery – the choices are limitless!" 
Christmas is coming up soon – is there a seasonal trend that we may be missing?
Well, we're all missing dressing up aren't we! But as we are all having more of a lowkey image with our wardrobe, I would probably go with some nice velvet palazzo pants; easy to wear, easy to move in and maybe a lovely cashmere jumper; something with a bit of colour. Maybe a nice little row of pearls, I adore pearls – and some comfortable shoes, and that's me done!
What can we look forward to next year from Me & Maya?
That purely depends on what COVID is going to be doing – it has put everything on hold unfortunately. I think if this vaccine proves to be successful, then of course it's back to event dressing. I think people will want to dress up and look glamorous and get out of their comfortable home-wear, so I am going to be looking at glamour for Me and Maya, reinvigorating people's outfits again.